Brian Dillon
The Great Explosion
Penguin Books, UK, 2016
ISBN 978-0-241-95676-2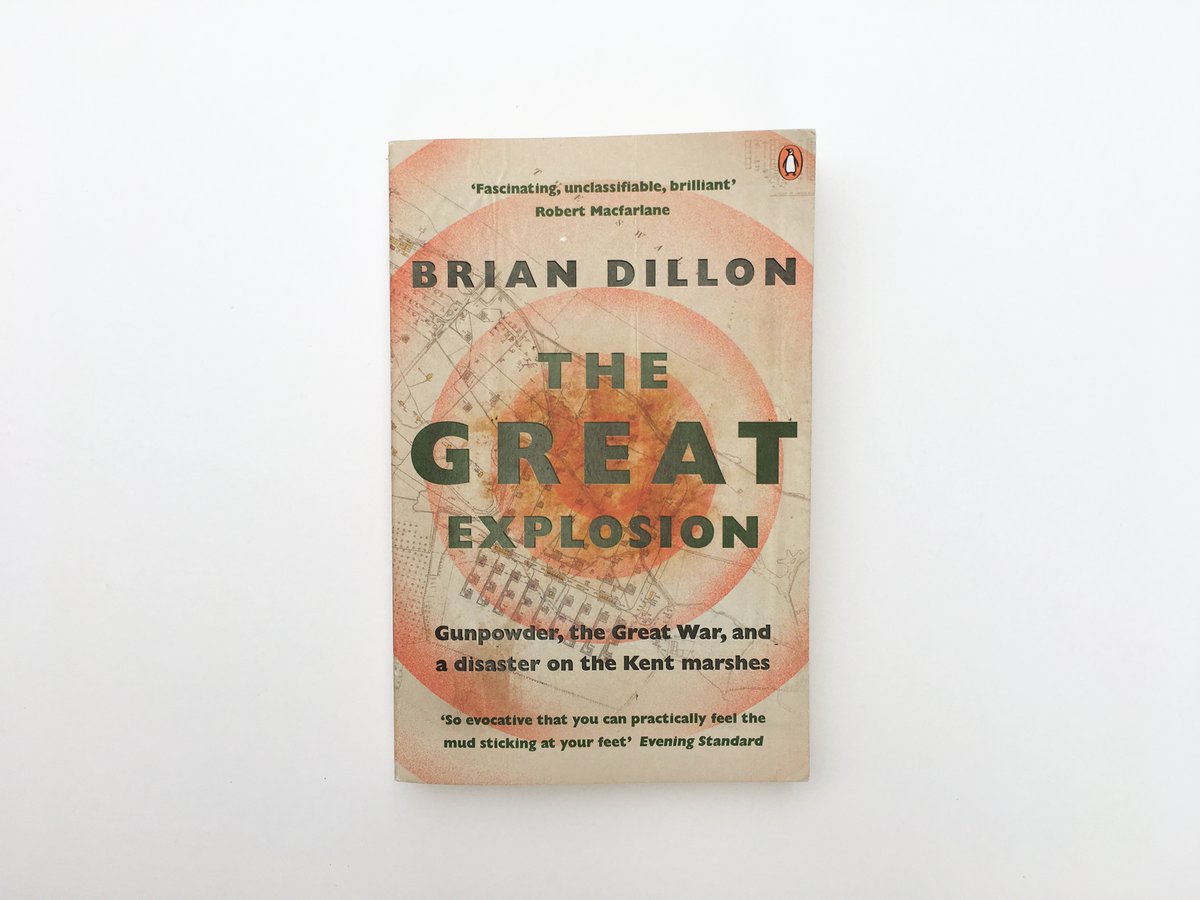 I picked up this book after finishing Esther Kinsky's 'River', and initially thought: "Tough luck", since the 'River' had been such a great read, and set the stakes rather high. But it merely took a page to get me hooked onto 'The Great Explosion', which centres on an accident in an explosives factory on Uplees Marshes, close to Faversham on the Kent coast. The book is quite different to the sometimes dream-like 'River', but equally captivating. Dillon recounts the event in great detail, based on pieces of information drawn from various archives, and presents it in the context of what the blurb refers to as a "natural history of explosives and their effects on the earth, on buildings, and on human and animal bodies". This is paired with a very personal narrative of the author, who moved from Dublin to Canterbury as a student in his mid-twenties and initially completely refuses to engage with his new surroundings, but eventually finds a 'home' in the landscapes of north-eastern Kent. About his motivation to write the book he says: "I had decided that I owed something to this place, that although I was just an occasional visitor it had gone to work on me over the years […]", which somehow paraphrases my own sentiments when setting up this very site: to return something out of gratitude for what one has received.
The writing is at times almost forensic, in particular where he recounts the various explosions – intentional, but more often the accidental ones – from the one in Faversham to the explosion of the Mont Blanc, when a freighter stocked to the gunnels with explosives was accidentally rammed on its way into Halifax harbour in 1917, resulting in "the largest man-made explosion in history to that point", only to be exceeded by the dropping of the first atomic 28 years later.  It was also interesting to learn how developments in photography (high-speed photography, which allowed amongst others to capture such innocent images as that of a drop of milk suspended in mid air, surrounded by a corona of splashed milk) tied into research of impacts of explosives and projectiles.
But the book keeps returning to the present, for as much as Dillon is interested in the historic events, he is equally interested by the traces they left on the landscapes of north Kent. He visits the places of various former explosives factories, some of which are now part of country parks and nature reserves, others – as the site of the Explosives Loading Company, where the accident on which the book centres – now almost completely obliterated, without a trace of the 13.5ft deep crater left by the explosion.